March 24th T&T: BEST LIGHTROOM & PHOTOSHOP TECHNIQUES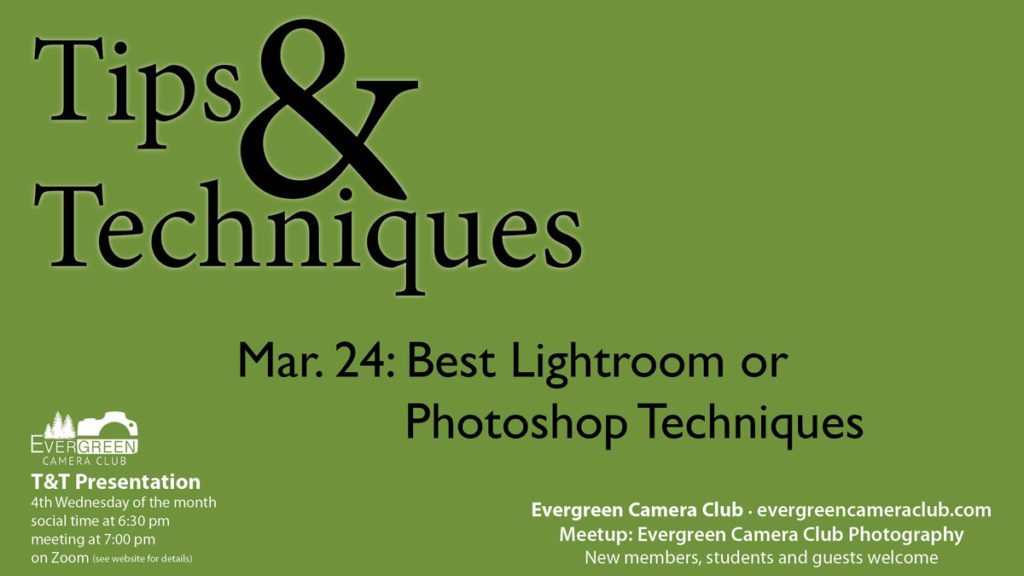 Have you mastered a new Photoshop or Lightroom technique or have a classic process you wish to present? Are you stumped about a certain panel or slider that someone in the group can help explain? Come armed with questions or give us a quick demo so that we can all learn from each other. Everyone will have an opportunity to share in this enlightening and entertaining Tips & Techniques session.
Join Evergreen Camera Club for this informative and entertaining Tips & Techniques presentation on Wednesday, March 24th via Zoom for 6:30 pm social time and announcements at 7:00 pm in the Zoom meeting room.
Join Evergreen Camera Club via Zoom:
Wednesday, March 24th
6:30 pm social time and announcements
7:00 pm start of presentation
Zoom Link:
https://us02web.zoom.us/j/89686920700?pwd=aDFHenlKTGxJMGd6K25GYzFUVDcxUT09