ECC Virtual Holiday Party and Contest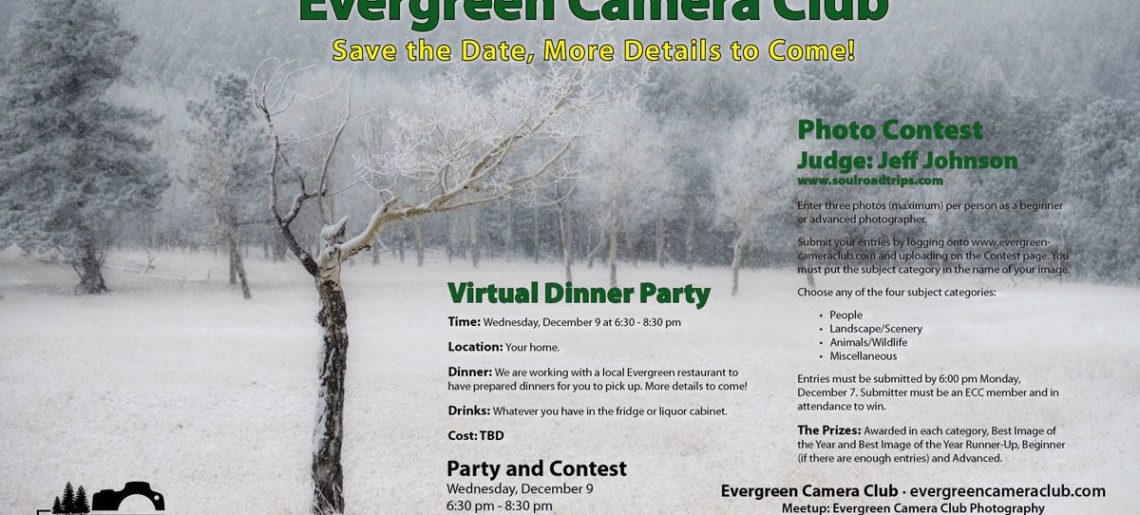 SAVE THE DATE
Evergreen Camera Club is having a virtual holiday party!
Get your holiday hats on and your photos ready for the photo contest! We are preparing a virtual, year-end party! Just for fun, we are also working with a local Evergreen restaurant to have prepared dinners for you to purchase and pick up so that we can enjoy our "To Go" dinner together.
Time: Wednesday, December 9 at 6:30 – 8:30 pm
Location: Your home.
Dinner: Optional, more details to come!
Drinks: Whatever you have in the fridge or liquor cabinet.
Cost: TBD
Photo Contest: Judged by Jeff Johnson
Enter three photos (maximum) per person as a beginner or advanced photographer.
Submit your entries by logging onto www.evergreencameraclub.com and uploading on the Contest page. You must put the subject category in the name of your image.
Choose any of the four subject categories:
People
Landscape/Scenery
Animals/Wildlife
Miscellaneous
Entries must be submitted by 6:00 pm Monday, December 7. Submitter must be an ECC member and in attendance to win.
Prizes: Awarded in each category, Best Image of the Year and Best Image of the Year Runner-Up, Beginner (if there are enough entries) and Advanced.