January T&T: WTHAMI!!!? with Jeff Johnson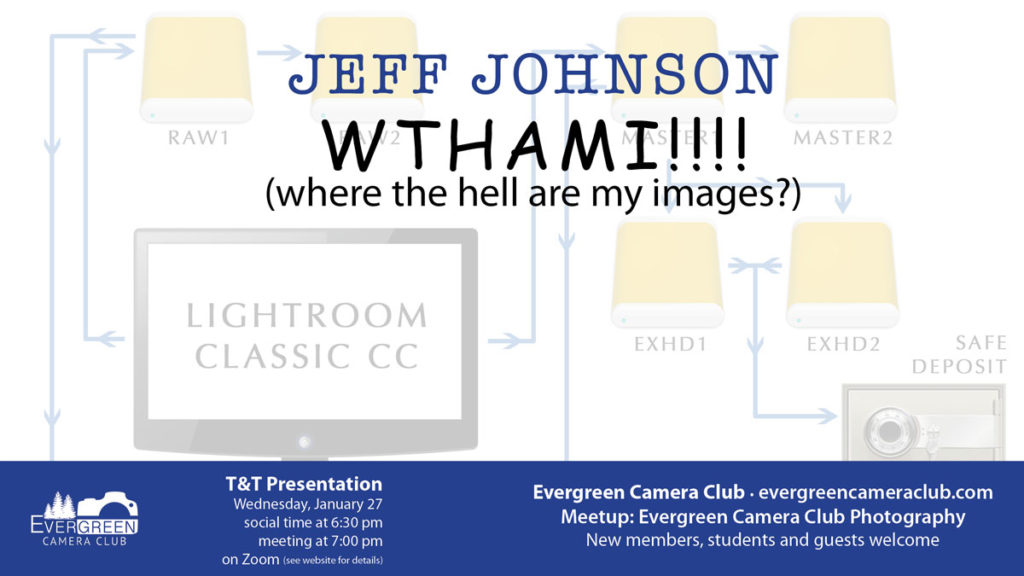 We've all gotten pretty proficient at image processing. But do you know where your images are? Do you know how much hard drive space you are using or how much you have left? How about your backup system . . . is that reliable? If you are struggling with these answers, so are most of your peers. It's a commonplace theme among us creatives.
Colorado Master Photographer, Artist, Educator and Chief Instigator Jeff Johnson will help simplify your image storage structure as well as file hierarchy and file naming conventions. Don't worry . . . all is not lost!
Join Evergreen Camera Club for this informative and entertaining Tips & Techniques presentation on Wednesday, January 27th via Zoom for 6:30 pm social time and announcements at 7:00 pm in the Zoom meeting room. See the ECC website (on the home page and under the Meetings/Events menu item) and future ECC emails for the Zoom link.
Join Evergreen Camera Club via Zoom:
Wednesday, January 27th
6:30 pm social time and announcements
7:00 pm start of presentation
Zoom Link:
https://us02web.zoom.us/j/84863995745?pwd=WWFWZllmeklMUzZSZUhUR3VSNE9qZz09