August 10th General Meeting: Storytelling for Photographers with JP Stones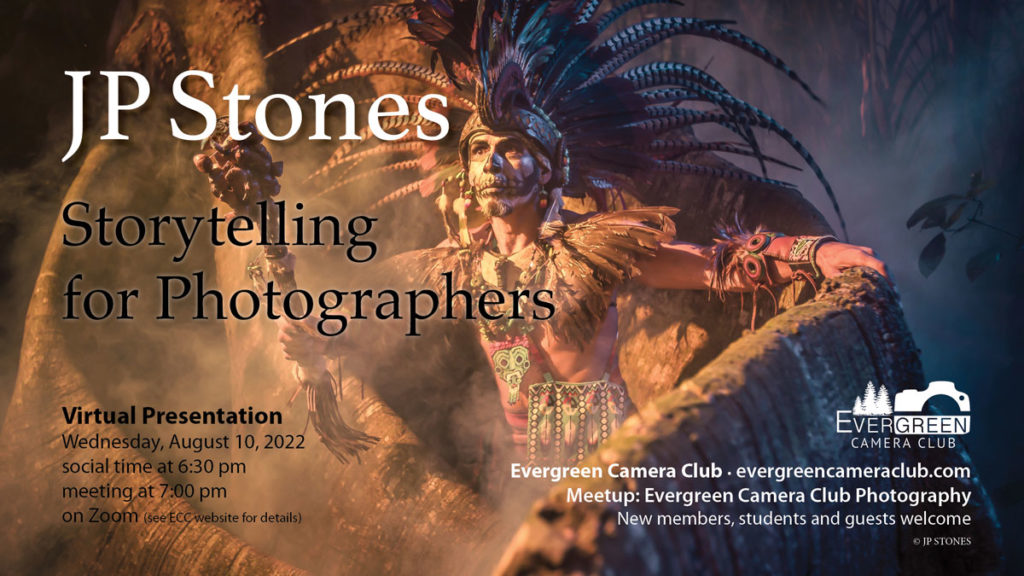 Video for this Presentation
The video for this is not posted as usual on YouTube per the request of the presenter: members may request the link to this video by sending an email to webmaster@evergreencameraclub.com
Impactful storytelling can help your viewer connect emotionally with your images. JP Stones' desire to tell visual stories of the Mexica (Aztec) culture made him realize that telling a story needed to play a bigger role in his portraits. That changed his entire creative process and the way people react to his photos.
Through his presentation, JP Stones will answer: How much of a story can one photo really tell? How being more intentional can change your approach to photography. How photography can be about making an emotional connection as well as creating beautiful work. And how thinking in stories can help guide your entire creative decision-making process.
Learn more about JP Stones on his website, jpstonesphotography.com
This is a virtual Zoom meeting, so log in with Evergreen Camera Club on Wednesday, August 10th for social time at 6:30 pm and announcements at 7:00 pm. New members, students and guests are welcome.
Evergreen Camera Club via Zoom:
Wednesday, August 10th
6:30 pm social time and announcements
7:00 pm start of presentation
Zoom Link:
https://us02web.zoom.us/j/85353570683?pwd=T1NFcXdscVFsNkc4WHc5VXRwY1JJdz09