August 2023 General Meeting: The Process for Creating Effective Compositions with Cheryl Opperman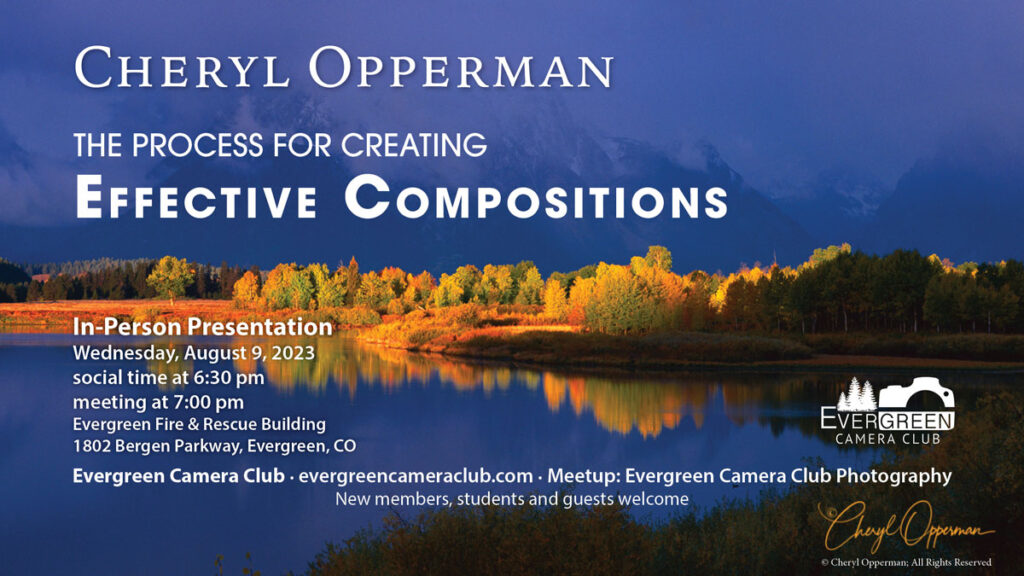 CHERYL OPPERMAN
The Process for Creating Effective Compositions
What's the most effective element of your image after the lighting? It's your composition! It can make or break the impact of your photo. Join award winning photographer Cheryl Opperman as she guides you through the steps necessary to successfully use the tools and rules to design, rather than simply record, your photographs.
Join Cheryl and the Evergreen Camera Club in person in the auditorium at the Evergreen Fire and Rescue Station (1802 Bergen Parkway, Evergreen) on Wednesday, August 9th for 6:30 pm social time, brief announcements at 7:00 pm with Cheryl's presentation following.
New members, students and guests are welcome.
Join us at the fire station:
Wednesday, August 9 at 7:00 pm (6:30 social time)
Evergreen Fire and Rescue
1802 Bergen Parkway, Evergreen, CO