September 2023 General Meeting: The Original Influencers with Greg Holden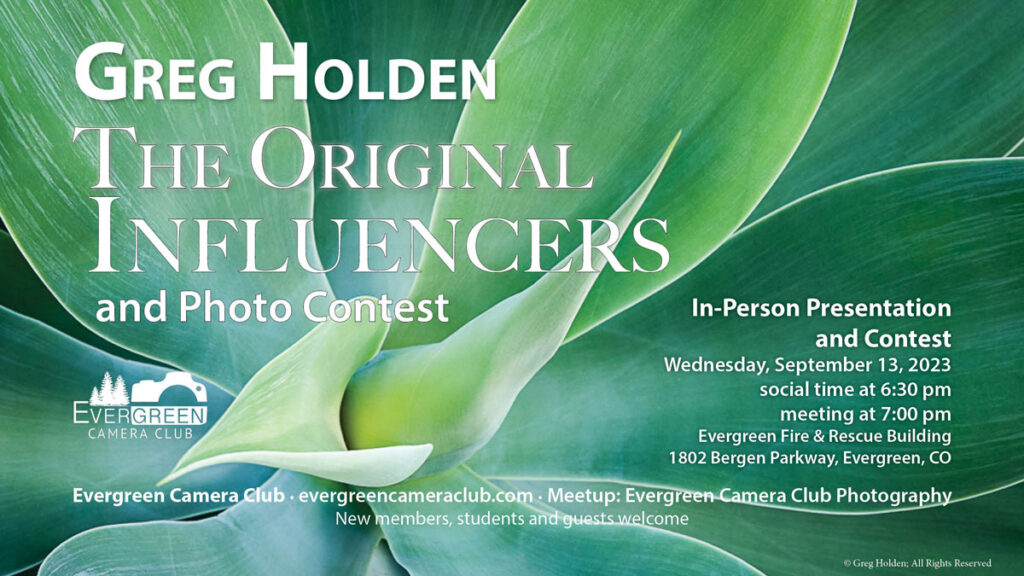 GREG HOLDEN
The Original Influencers
During the dawn of photography from the late 1800s through the mid-1900s, it was common for photographers to be inspired by the works of their peers. This presentation will showcase Greg's collection of photo comparisons including photographs from both well-known photographers such as Edward Steichen, Alfred Stiglitz, and Dorothea Lange; and perhaps an introduction to lesser-known photographers such as George Tice, Jaromir Funke, and A. Aubrey Bodine. The presentation concludes with a comparison of how Greg's photos have been inspired by these master photographers.
Join Greg and the Evergreen Camera Club in person in the auditorium at the Evergreen Fire and Rescue Station (1802 Bergen Parkway, Evergreen) on Wednesday, September 13th for 6:30 pm social time, brief announcements at 7:00 pm with Greg's presentation following. We will also host this meeting on ZOOM at the link below starting at 7pm.
NOTE: This is a contest meeting! Greg has graciously volunteered to judge images after his presentation.
The contest theme is Evergreen Lake (since we will have a T&T shootout on August 23rd) or any lake.
Two images per entrant only please (plus fun images if any).
Click here for contest details and to upload your images. You must be a member and present at the meeting for your entries to be included.
New members, students and guests are welcome.
Join us at the fire station:
Wednesday, September 13 at 7:00 pm (6:30 social time)
Evergreen Fire and Rescue
1802 Bergen Parkway, Evergreen, CO
Or by Zoom:
https://us02web.zoom.us/j/83677215709?pwd=MXhHSlN6TEZWdml6MDU2aGNjSzk4QT09