November 8th General Meeting: Night Photography and What You Really Need to Succeed with Darren White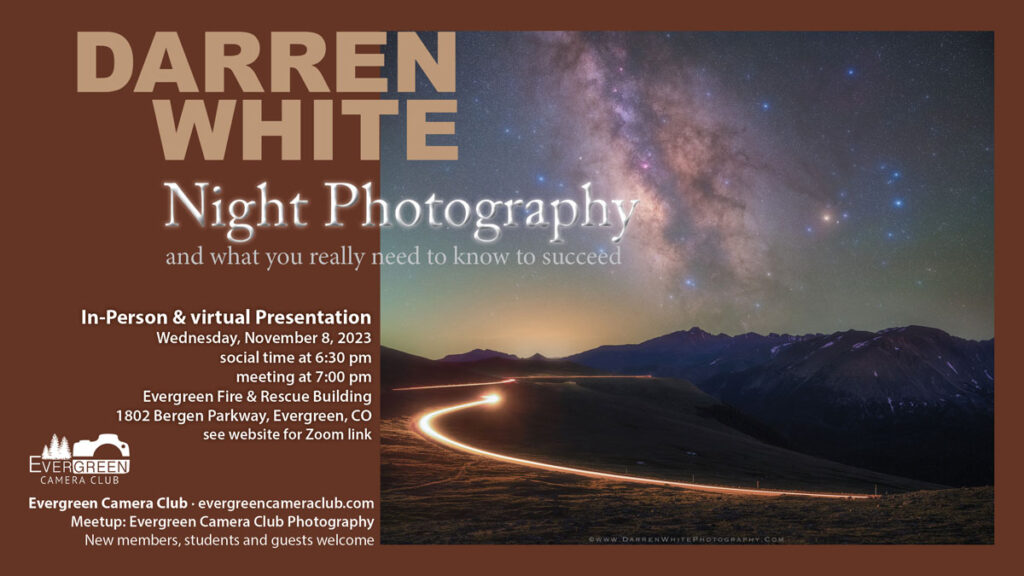 DARREN WHITE
Night Photography and What You Really Need to Succeed
Weather Alert Update:
Tonight's meeting will be ZOOM only
snow expected for the rest of the day in Evergreen
Have you ever photographed the Milky Way? Do you know how and where to nail that great night shot? Darren White is a master at photographing the night sky and will share his scouting, shooting and processing techniques. This is a not-to-miss presentation!
Come see Darren and the Evergreen Camera Club in person in the auditorium at the Evergreen Fire and Rescue Station (1802 Bergen Parkway, Evergreen) on Wednesday, November 8th for 6:30 pm social time, brief announcements at 7:00 pm with Darren's presentation following. We will also Zoom this presentation at the link below.
New members, students and guests are welcome.
Join us at the fire station:
Wednesday, November 8th at 7:00 pm (6:30 social time)
Evergreen Fire and Rescue
1802 Bergen Parkway, Evergreen, CO
Or by Zoom:
https://us02web.zoom.us/j/85747779825?pwd=Q1VUV2Jvd1V6ZjJOTVphc3lHcktGQT09