August 2023 Tips & Techniques: Shootout at Evergreen Lake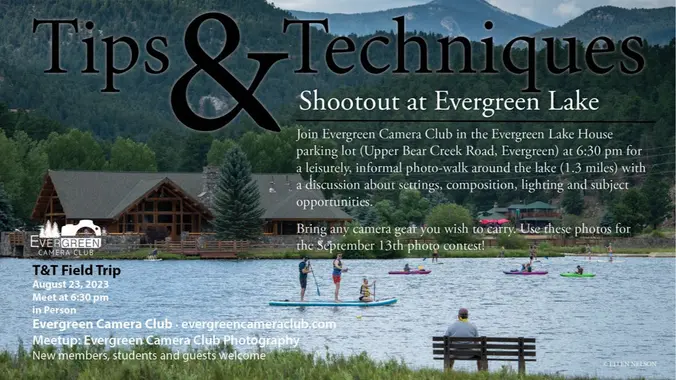 Join Evergreen Camera Club in the Evergreen Lake House parking lot (Upper Bear Creek Road, Evergreen) at 6:30 pm for a leisurely, informal photo-walk around the lake (1.3 miles) with a discussion about settings, composition, lighting and subject opportunities.
Bring any camera geat you wish to carry.
Use these photos for the planned upcoming September 13th photo contest (see our web site for details)!
New members, students and guests are welcome.
Join us at the Lake:
Wednesday, August 23 at 6:30 pm
Upper Bear Creek Road, Evergreen
Lake House Parking Lot
Venue
Evergreen Lake
Evergreen, CO, US, 80439