March 9th General Meeting: Arctic Wildlife of Churchill with Dawn Wilson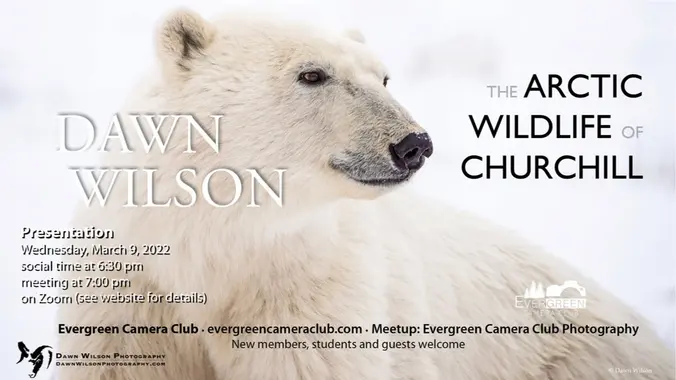 DAWN WILSON
Arctic Wildlife of Churchill
Polar bears invade Churchill, Manitoba! Log into Evergreen Camera Club on March 9th to find out why.
Each fall, polar bears gather on the edge of Hudson Bay in Churchill, Manitoba to wait for the ice to arrive. Frozen waters mean it is time to hunt seals but before then, the polar bears just pass the time waiting for the bay to freeze by playing, feeding, roaming and sleeping near the town of Churchill. Join Dawn for this visual presentation about what to expect during a trip to Churchill, including wildlife of the area, travel tips and how to stay warm. Discover more at www.dawnwilsonphotography.com.
Evergreen Camera Club is continuing with the Zoom meeting format, so join ECC on Wednesday, March 9th for social time at 6:30 pm and announcements at 7:00 pm in the Zoom meeting room. New members, students and guests are welcome. See the ECC website and future ECC emails for the Zoom link.