PHOTOGRAPHING SANDHILL CRANES IN NEBRASKA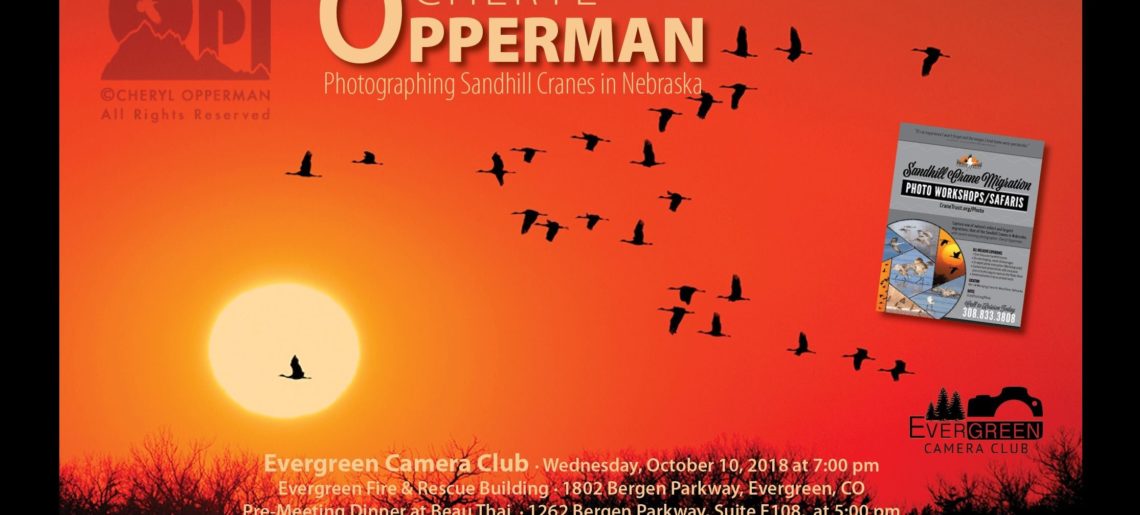 Cheryl Opperman
PHOTOGRAPHING SANDHILL CRANES IN NEBRASKA
During March of each year, nearly a half-million sandhill cranes migrate through Nebraska, creating one of the most amazing wildlife gatherings in North America. She will highlight this unique photographic opportunity with numerous tips on how to make the most of your trip to photograph these magnificent birds.
Cheryl Opperman is a nationally acclaimed nature photographer employing the power of photography to inspire interest in the environment. She was featured as a leading female nature photographer by Outdoor Photographer Magazine and has received numerous prestigious awards from organizations including Nature's Best Photography, the International Photography Awards, and the National Wildlife Federation. Cheryl's work has also appeared in publications or exhibits for the National Geographic Society, the Smithsonian National Museum of Natural History, and many others. For more examples of Cheryl's award-winning photos, check out cherylopperman.com.
Visitors, guests and students are encouraged to attend. Doors open 6:30.
Remember to submit photos for the monthly critique and contest by Monday before the meeting. Details are at www.evergreencameraclub.com
We will have a pre-dinner meeting at Beau Thai in Evergreen at 5 pm. RSVP separately on Meetup.
Venue
Evergreen Fire & Rescue
1802 Bergen Parkway
Evergreen, CO, US