November 10th General Meeting: The Fine Art of B&W Landscape with John Gregor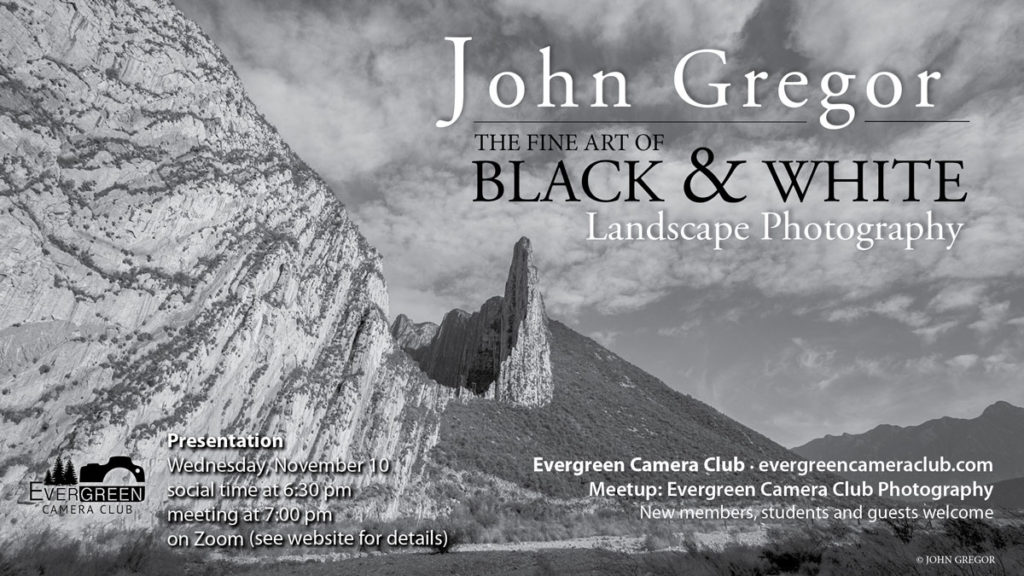 JOHN GREGOR
The Fine Art of B&W Landscape
Black and white photos are the foundation of fine art photography. But creating a compelling B&W fine art image and print is challenging. This presentation will review methods of approach and ways of understanding B&W image creation using the digital medium. Gregor will share his expertise gained from over 40 years of B&W photography.
John Gregor is a professional photographer who currently spends his free time in Two Harbors Minnesota, Temple Maine, Bluff Utah, and touring throughout Mexico. He owns and operates ColdSnap Photography (www.coldsnapphotography.com) which offers photographic workshops and tours in Canada, United States, and Mexico.
Join Evergreen Camera Club for John's valuable presentation on Wednesday, November 10th via Zoom for 6:30 pm social time and announcements at 7:00 pm in the Zoom meeting room.
Evergreen Camera Club via Zoom:
Wednesday, November 10th
6:30 pm social time and announcements
7:00 pm start of presentation
Zoom Link:
https://us02web.zoom.us/j/85930745764?pwd=TTBYdS9acXFhWHpxay9zdi9EOU9rZz09