February 2023 T&T: What's in a Name? Titling your Photos with Ellen Nelson and Leslee Hampel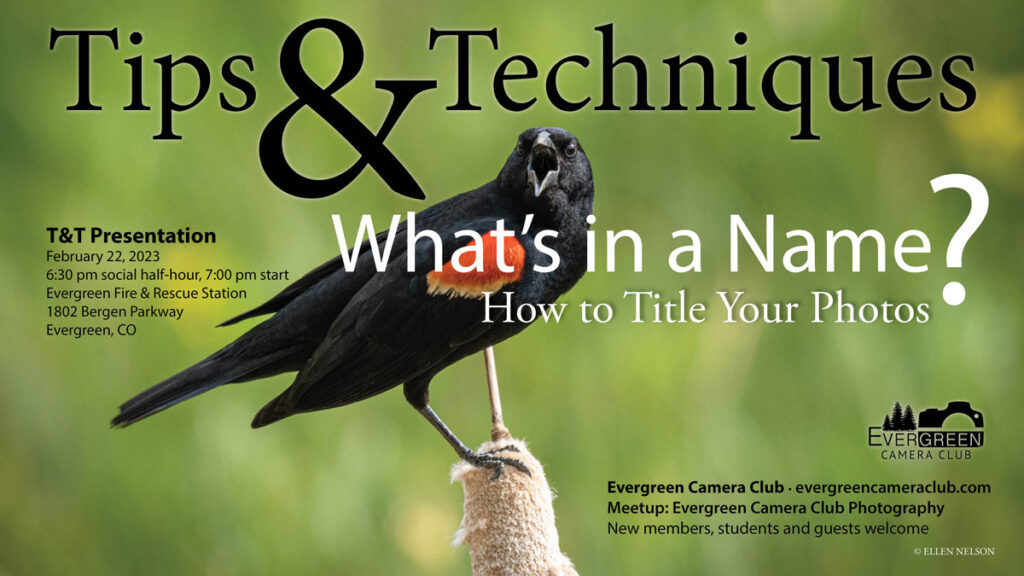 Most photos tell a story, and one of the best ways to direct the viewer or evoke emotion is with a compelling title. Join Ellen Nelson and Leslee Hampel for an interactive look on what makes a good (or bad!) title for your photo, how to come up a title or where to find inspiration.
ECC plans to incorporate your photo title in upcoming contests, so this is a great skill to have! Submit a photo on the ECC website under the menu item Contest if you would like to hear title suggestions for your image during the meeting. (Members Only! Please submit just one image into the FUN category – images must be submitted by the end of the day Monday Feb 20)
Evergreen Camera Club WILL NOT BE meeting in person at the Evergreen Fire and Rescue Station due to the Snow Storm!!!!
New members, students and guests are welcome.
Join us via ZOOM:
Wednesday, February 22 at 7:00 pm (6:30 social time)
https://us02web.zoom.us/j/81816078453?pwd=SjE1Y29PaHhhYmJ3SThOeXlOVkwxZz09