Cameras for a Cause – Conservation Photography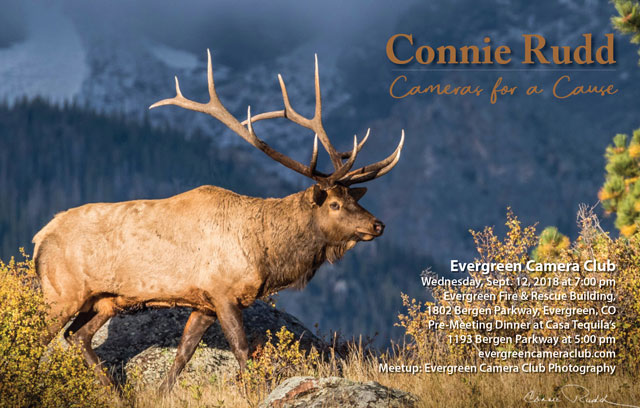 "Conservation Photography is about inspiring thoughtful action with the goal of achieving real and tangible conservation gains."
        Alexandra Garcia, Executive Director, International League of Conservation Photographers
Evergreen Camera Club member Connie Rudd will present an overview of conservation photography — and how you can become inspired and involved — for the Wednesday, September 12th meeting at 7:00 pm at the Evergreen Fire & Rescue Building (1802 Bergen Parkway, Evergreen). She will introduce the concepts and successful work of conservation photography and well-known photographers in the field.  "Many photographers use their photography to express themselves artistically through their images because they have a deep love of the natural world and are concerned about protecting wilderness, wildlife, air and water quality, open spaces and functioning ecosystems," Connie explained. "Conservation and photography complement each other. Conservation organizations are in constant need of fresh images that accurately depict the condition of wild places and who else but us — we are out there all the time — to provide compelling photographs for the purpose of conservation."
Connie will offer suggestions on how to sell or donate your work to conservation organizations, get your work on the front page of your local newspapers and how to help local organizations protect valuable landscapes.
Connie Rudd's 35-year career was committed to conservation and preservation with the National Park Service.  Since her retirement in 2014, she has picked up her cameras more frequently and now has the freedom to wander, finding "nature at its best."  Connie taught photojournalism at Arapahoe High School in the 1970s, has written books about the Grand Canyon — illustrated in part with her photos — and currently exhibits in three locations in Colorado.  She won the "Best Image by a Colorado Photographer in Show" in 2016 in a nationally juried show sponsored by the Southern Colorado Photography Society, celebrating the 100th Anniversary of the National Park Service. Her focus with her photography is to inspire citizen stewardship of public lands, assuring the next generation the same opportunities found today for learning, creating artful images, and "making a difference." Find Connie's work at www.connieruddphotography.zenfolio.com
Join us for dinner at Casa Tequila's at 5 pm with our speaker. RSVP on Meetup.
Venue
Evergreen Fire & Rescue
1802 Bergen Parkway
Evergreen, CO, US