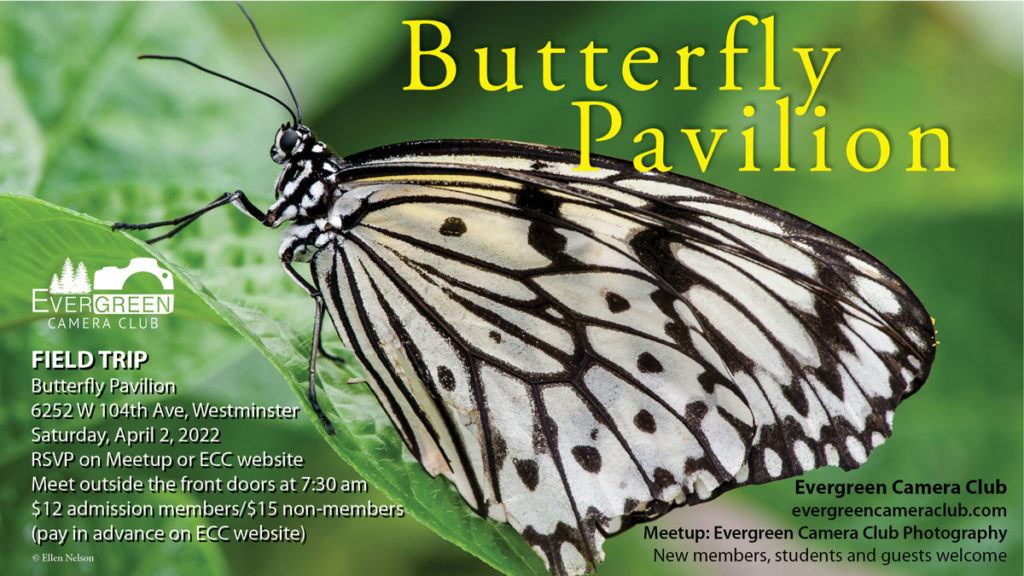 FIELD TRIP TO THE BUTTERFLY PAVILION
Join Evergreen Camera Club and savor a quiet hour of tripod photography in the tropical rainforest before they open their doors to the public. Take photos of awakening butterflies and exotic tropical flowers in the morning light. We will meet outside the front doors of the Butterfly Pavilion (6252 W 104th Ave, Westminster) at 7:30 am on Saturday, April 2nd and begin shooting at 7:45 am.
Watch for T&T details on March 23rd to get you prepped for photographing tropical plants and butterflies!
THIS EVENT IS NOW FULLY BOOKED.
This event is limited to the first 20 participants so register soon! You Must Prepay (Members $12/Non-Members $15)
Pre-registration is required by RSVPing on Meetup: Evergreen Camera Club Photography AND paid for on the ECC website with the button below:
Your RSVP will not be counted until you pay.