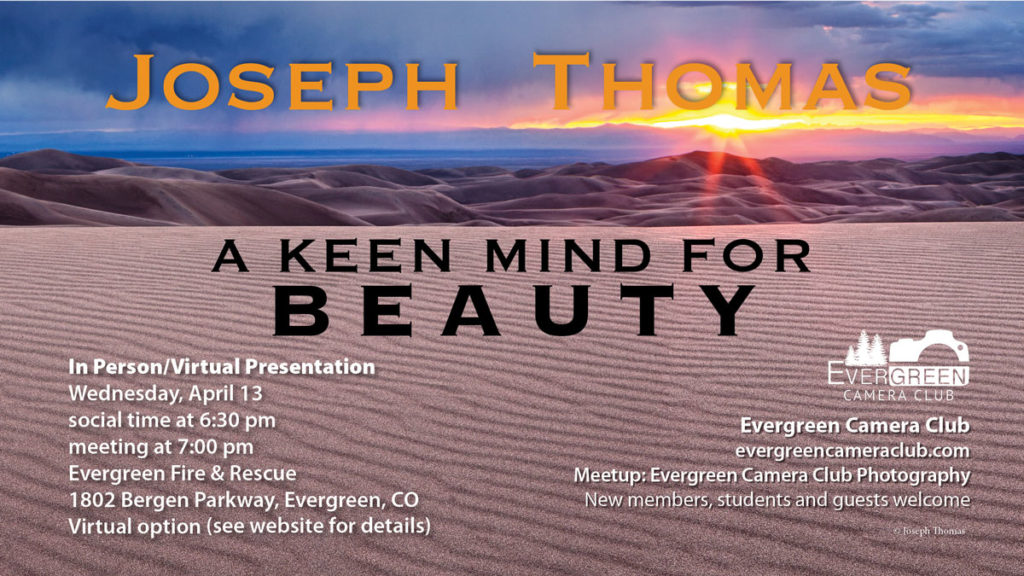 Evergreen Camera Club is meeting in person and virtually! AND Joe has agreed to judge our first regular meeting photo contest in two years! Submit your photo entries on the Contest page of the ECC website (this month's theme is "anything"). NOTE: check the contest guidelines – the rules have changed!
Go beyond merely taking pictures and learn to create beautiful works of art. During this presentation, landscape photographer Joseph Thomas will reveal the number one technique you need to master in order to create more impactful photographs that evoke an emotional response.
Evergreen Camera Club is meeting in person in the auditorium at the Evergreen Fire and Rescue Station (1802 Bergen Parkway, Evergreen) and offering a virtual meeting option, so join ECC on Wednesday, April 13th for social time at 6:30 pm and announcements at 7:00 pm.
New members, students and guests are welcome.
Join us at the fire station:
Wednesday, April 13 at 7:00 pm (6:30 social time)
Evergreen Fire and Rescue
1802 Bergen Parkway, Evergreen, CO
Zoom Link for those who can't attend in person:
https://us02web.zoom.us/j/88082485882?pwd=OVRwSW4yQyt3a0Z4clU3clgydll2Zz09